Student Council Election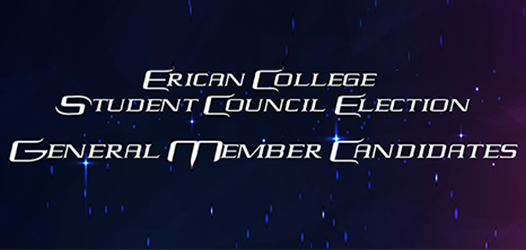 Student Council has undergone its election day on the 22nd of November 2017. Results of the election are as shown.
President
Khaswin Baskaran
Deputy President
Sukhwinder Kaur
Vice President
Boon Ji Yin
Secretary
Nur Hidayah Binti Hassan
Vice Secretary
Shavinna A/P Unni Krishnan
Treasurer
Debbie Chong Mei Xin
Faculty Rep
FOBIS : Chan Qi Qi
FOHAT : Natalie Lim
FODAM : Renuga
Event, Sports & Recreations
1. Fu Mei Kwan
2. Ryan Peter Ortega
Student Welfare
1. Dhachaiyine Raja
2.Ng Jing Yu
Media & Publicity
1. Chee Yen Yeng
2. Hwan En Yu
English
1. Joshua Varghese
Cultural
1. Shivaani Themuda
The upcoming events will be as the following:
1. Club Day & Carnival
2. Erican Party 2018
3. Chinese New Year Celebration
4. Ericanites Escapade Camp
5. Ericanites English Speaking Camp
The gallery was not found!